SIMON VINCENZI
Some Shadow Plays From The Cave
2022

The Portals Project
Part One: El Umbral - The Threshold

Bermondsey Project Space
Helena Goldwater Lucía Imaz King Wayne Lucas Simon Vincenzi

On the occasion of the exhibition
The Portals Project. Part One: El Umbral - The Threshold
, held at Bermondsey Project Space in London, Simon Vincenzi presented further manifestations of the project
Some Shoadow Plays From The Cave,
a porno-philosophical dialogue in an endless stream of AI generated plays, set in Plato's Cave and to be re-enacted in a dark theatre.
The exhibition presents two video installations screening a selection from the infinite dramaturgical stream, a table with props from its scenes, and a series of costume drawings for the plays characters.

︎︎︎ CONDYLURA05 w/ SIMON VINCENZI
Some Shadow Plays from the Cave
commissioned by Condylura, with the support of Xing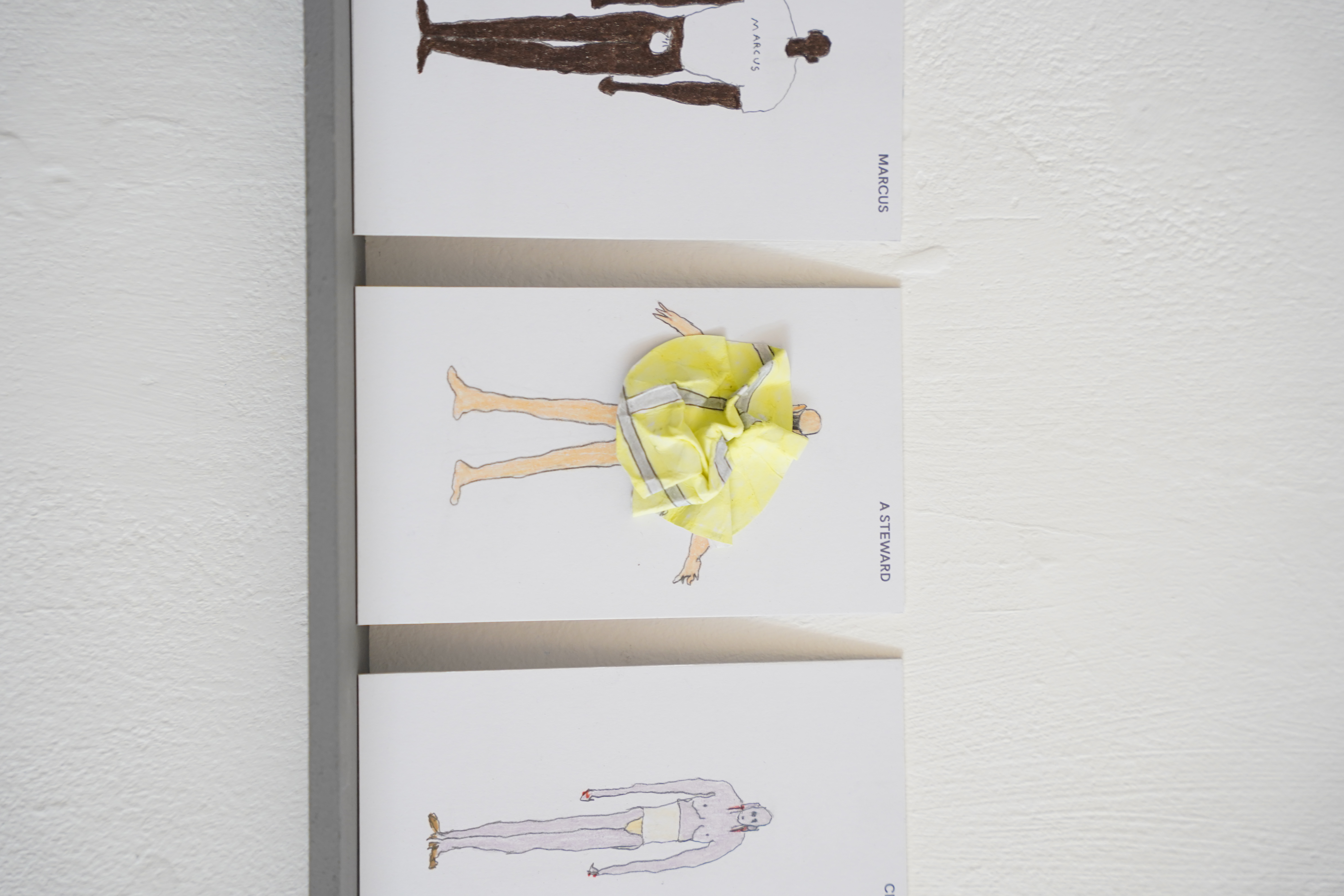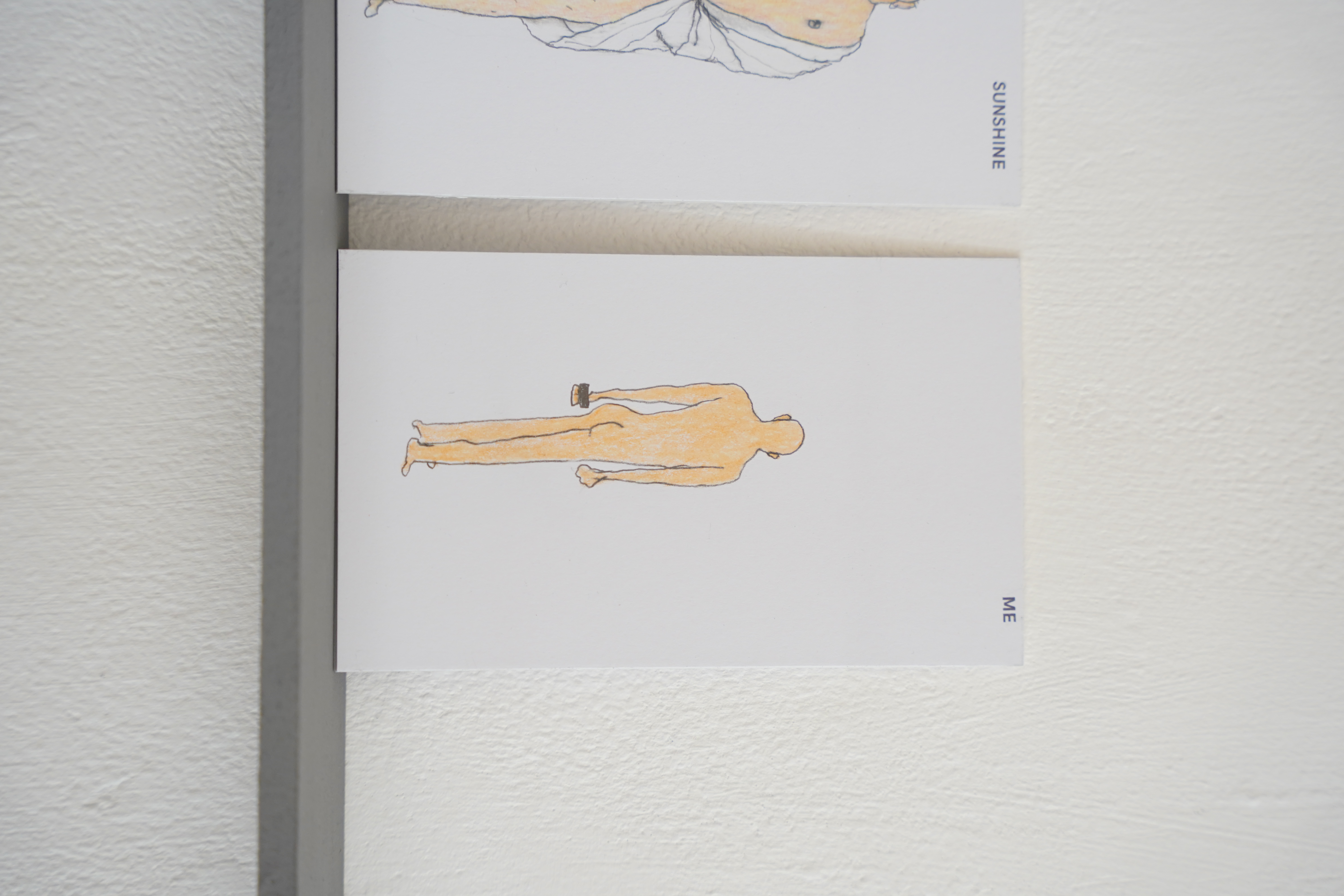 The Portals Project
Part One: El Umbral – The Threshold

Artist Talk Text
Gill Addison

July 14th 2022
Bermondsey Project Space.




The precision of 'nuance'
=
a precision of labour (queering as was)



Two floors demarcate shifts in the practices of the individual artist, exhibited in the Portals Project: Part One El Umbral. In doing so dialogue between their works, their language, and their worlds are proposed. There are thresholds to be crossed…

A staging, an invitation to walk amongst, to slip between what we have before us – and where the suggest is 'go stay a while' in our responses and readings.

The two floors work in tandem, using space as a literal portmanteau of each practice but also as a collective folding into each 'others' other.

Question: It Is not where is the body but rather what remains from the body that was in action?

Resilience to work through to work out in each practice tenders suggestion of repetition, action, and resilience which may equate to transcendence as a means to re-figure and re-negotiate each subtle and not so subtle shift that the work is extending. The word 'embodiment' keeps coming to mind. A queering of embodiment because what is offered is not the centre, it is not a singular core but rather the intersection of the liberated otherness and actions which simultaneous define and defy. There is a sense of undoing, to become undone.


What surfaces, what is present (to me, my subjective reading) are the remnants of sense, touch, smell, of sound (and silence) (my body)
Distinctly personal – but collective understood.

I sense (I feel) what has been done (to be undone) to become.

The body surfaces as an activity.

In A Place Between memory and Fantasy, Wayne questions narrative – public shorthand and familiarity – via graffiti and the tattoo a visual language and grammar understood and known, yet in Wayne's lexicon also politically personal. Questions of class and what cannot be seen surface, known and understood, as a remembrance of what once could not be acknowledged.

Some Shadow Plays from The Cave Simon deftly serves objecthood + narrative which twists and turns between each incarnation of the AI text betwixt authors (–slips) and authorships.

Keeping up is impossible, the notions of a linear narrative are defunct and resisted.
Yet as a 'trinity' the elements offer a means to re-enter a scene (multiple) – part decoder – part detective to stitch together the segments of events (multiple), again remnants offered. I sensed that the aim is not to conclude but rather to implicate to include my/our body into this dialogue.


Lucia Kings Making The Land To Live On brings forth the action and physicality of being in a landscape and how a body can define notions/memories/fantasy of landscape. I understood this work, this practice as presented here, as evidence of a dialogue of and with the body (via drawing) and place/site. The gesture of the whole body is present in the marks and residue of the drawn lines, I was invited to move along and in the drawing, I was invited into action (into this landscape). This for me, offered a re-figuring of the 'movement' in Lucia's work La Orbital – which moved while I remained still, while light, sound washed over my body.


Standing between Lightly Tending and Top Knot Helena gifts a thread from which to gravitate along. Each work enables a surfacing of the precision of the labour undertaken by Helena and how this spoke to the potency of being present and presence. In her paintings the 'work' the labour is seamless, dissolved into the perfection of the image and its suggestive, magical entities. This resurfaced in the very presence in the performances, the unceasing commitment to action of precision as determination.

I was pulled into the paintings – in search of the how and what (in this digital pseudo-perfected world this was a joyous relief) and then to be captivated by the controlled endurance of Helena's performance.


In addition to the works, the publication exists as a further conversation. The perfect non-catalogue – precisely explores the thinking, drives and wonder that feeds and nurtures individual practices. Again, defining by defying a core, a singularity – but collating what circles around, infusing the works, and their dialogue.
The working out to work through.


Footnotes (as a list) phrases, words from a visit (Friday 8th July 2022)


Precision of detail

Landscapes = other worlds

Slipped - Slippage -Tripped

Re-figuring
Beep

Precious of delicacy
A straddling, an offering

Beep

The residue of precision
The precision of physicality
Corporeality
Drawing intimacy
The stench of rubber

What is in the blue bag?